To update or change to a different Firmware Version ON the Team Plus CANGate,  please follow these steps:
Step 1:  Download your chosen update package from list below (Windows only at this stage) and extract the zip file onto your windows desktop.
Step 2:  Plug CANGate into your Windows PC with a USB cable to the USB-C port on CANGate device
(remove the USB cable in there now, and this can go back in when your done)
Step 3:  Open the folder you extracted, and double click on CANGate Updater.exe
Step 4: Choose 'ESP32' as the chip and 'develop' as the mode and then press OK button.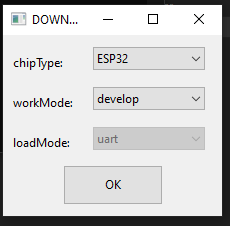 Step 5:  Fill in the screen as per this image:
Select the new versions .bin file from the bin subdirectory (if it does not automatically have it selected)

Note..  there may be multiple versions of the .bin file.   for example:

ending in "v2.4.bin" would be the standard version
ending in "v2.4o.bin" is a special version to address some component variations.    Try standard version first.   If you have issues with CAN addresses of output, try one of the  variation which will patch that issue.

set the tick box
and @ location to "0x10000"
set COM port from the pull down list.   The one you want should have appeared when you plug in the CANGate USB cable.
press "START"

Step 6:  The new version flash will begin.  The process completed successfully if the 2 windows show the messages in this image.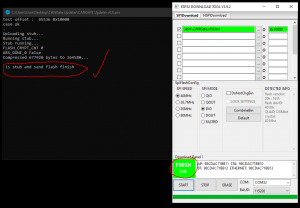 Step 7:  Disconnect USB-C cable from CANGate and plug back in the USB-C cable connected to your car power, and test.